Dr. Parag Pruthi, Founder, Chairman and CEO
Dr. Pruthi brings over twenty-five years of expertise in the network security, wireless and applications analysis industry. Dr. Pruthi is the founder of NIKSUN which he has built from a startup to a highly successful global company leading the way in the cyber security, wireless and network monitoring markets.

Dr. Pruthi is widely recognized as the founding father of packet capture, stream to disk, bit vacuum, and other related technologies which he introduced to the market in 1997 through the enormously popular NetVCR. He is also widely accepted as one of the leading innovators in the field of cyber security. In 2001 he introduced the NetDetector as the only device in the world capable of multi gigabits per second line rate recording and simultaneous analysis, reconstruction and replay in order to discover the source of security incidents and identification of potential information leakage. This ground-breaking invention led to the creation and growth of the field of network forensics.

Recognized as one of the foremost experts in advanced cyber security technologies, Dr. Pruthi advises on cyber defense strategies at the highest levels of governments and enterprises, both nationally and globally. He is a frequent speaker on cyber security issues, including keynotes to delegates from across 28 NATO nations, agencies, and strategic commands at the NATO Information Assurance Symposium 2010-2013.

Dr. Pruthi holds a Bachelor´s degree in Electrical Engineering, a Master´s in Computer Science from Stevens Institute of Technology, and a Doctorate in Telecommunications from The Royal Institute of Technology, Stockholm, Sweden. His thesis, "An Application of Chaotic Maps to Packet Traffic Modeling," was the first to apply chaotic and fractal or self-similar systems to accurately model the seemingly erratic nature of network traffic. Dr. Pruthi is General Co-Chair for the Global Wireless Summit which combines four global conferences: NIKSUN´s World Wide Security & Mobility Conference (WWSMC); the Wireless Vitae (European); the Wireless Personal Multimedia Communications Symposium (Asian); and PRISMS (the successor of MobiSec). Dr. Pruthi is also a member of the Steering Board for the "Journal of Cyber Security & Mobility."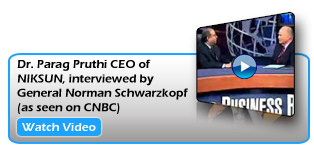 Satish Pruthi, President, COO and CFO
Mr. Satish Pruthi has been actively involved with NIKSUN since the last quarter of 1998. He has a wide range of business experience, spanning over 36 years, with both small and large companies, and has participated in three business startups. He has also played a key role in turning around various divisions of large multinational companies in the U.A.E. Mr. Pruthi was the founder of, and has served as the President of various multinational companies such as, APEX USA INC, and WOTEK INC (New Jersey, USA). He has also served as the General Manager of Jumma-Al-Majid Est. and Al Futtaim Group in U.A.E., where he built-up market leadership in various divisions of these companies starting with a staff of around 20 to a steadily increasing staff of more than 400 within three years. Mr. Pruthi brings extensive practical experience in business operations, including but not limited to: operations, marketing, and financing. Mr. Pruthi is the guiding light which keeps NIKSUN on firm footing even at times of tremendous growth.

Chris Dervishian, VP, Operations
Chris Dervishian is NIKSUN's VP, Operations. He holds multiple degrees in electrical engineering, with a hands-on engineering background. In addition, Chris earned a law degree, with commensurate experience negotiating high-tech transactions. This provides Chris with a balanced perspective to manage both operational and in-house legal matters, as senior counsel. Mr. Dervishian's area of expertise includes electronics and software technologies, intellectual property protection, semiconductor design and fabrication, computer architecture, networking and image processing. Prior to joining NIKSUN, Mr. Dervishian practiced at the law firm of RatnerPrestia, and worked as a Member of Technical Staff at Bellcore (now Telcordia) and as a Development Engineer at Moore Products, where he gained significant operations expertise. Mr. Dervishian graduated Cum Laude with a J.D. from the Widener University School of Law. He earned his Bachelor of Science degree in electrical engineering from Lehigh University and his Master of Science degree in electrical engineering from the University of Southern California.

Chris Mac-Stoker, Distinguished Engineer and ED, Product Management
Chris "Skip" Mac-Stoker is a twenty-year technology industry veteran with deep experience in the large-scale networking, infrastructure, high-performance & super-computing industry sectors. As Distinguished Engineer and Executive Director, Product Management, Chris steers the technical direction of NIKSUN's product portfolio.
Before joining NIKSUN, Chris began his career on Wall St. as a NOC Manager, becoming a consulting design engineer for trading infrastructures generating billions in revenue at tier one banks and hedge funds, specializing in high availability, data integrity/security issues, and multi-discipline failure analysis.

Andrew Heybey, VP, Chief Architect
Mr. Heybey is Chief Architect at NIKSUN Inc. and is responsible for the design, architecture and implementation of NIKSUN's core technologies. He has over 20 years of experience in operating systems, networking and software engineering. A core member of the NIKSUN team, Mr. Heybey has led NIKSUN's design and development efforts since 1998 and has been instrumental in bringing the company's patented technology to market. He has extensive experience in implementing and leading complex multi-faceted projects involving extremely high rate network traffic processing, data warehousing, application analytics, forensics and security.
Mr. Heybey received his BS and MS in Electrical Engineering and Computer Science from the Massachusetts Institute of Technology. He has worked in research at MIT and Telcordia (formerly Bellcore) before joining NIKSUN as Chief Architect.

Dr. Walter Willinger, Chief Scientist
Dr. Walter Willinger joined NIKSUN in 2013 as Chief Scientist, responsible for leading NIKUN's Innovation Center.
You may know that he is very well known for his work on the self-similar ("fractal") nature of Internet traffic, and his paper "On the Self-Similar Nature of Ethernet Traffic" is featured in "The Best of the Best - Fifty Years of Communications and Networking Research," a 2007 IEEE Communications Society book compiling the most outstanding papers published in the communications and networking field in the last half century.

Before joining NIKSUN, Dr. Willinger worked at AT&T Labs-Research in Florham Park, NJ from 1996 to 2013 and at Bellcore Applied Research from 1986 to 1996. Since 2000, he has focused on investigating the topological structure of the Internet and on developing a theoretical foundation for the study of large-scale communication networks such as the Internet. Dr. Willinger received his Dipl. Math. from the ETH Zurich in 1980 and his M.S. and Ph.D. in Operations Research and Industrial Engineering from Cornell University in 1987. He is a Fellow of ACM (2005), Fellow of IEEE (2005), AT&T Fellow (2007), and Fellow of SIAM (2009) and co-recipient of the 1995 IEEE Communications Society W.R. Bennett Prize Paper Award, the 1996 IEEE W.R.G. Baker Prize Award, and the 2005 ACM/Sigcomm Test-of-Time Paper Award.





Paul Spencer, VP of Engineering

Mr. Spencer has over 20 years of technical and managerial experience in Software Engineering and Data Communications Technology. He has tremendous experience in managing complex design projects and cross-functional teams focused on the delivery of products from concept to production. His expertise lies in being a change agent in establishing and implementing cutting-edge design, infrastructure, and processes necessary to meet the demands of a high growth market.

Prior to joining NIKSUN, Mr. Spencer was the R&D Director of Architecture, Systems Engineering, and Applications for IPC Systems, where he was responsible for the specification and development of their next generation voice trading applications. Before IPC, he worked at AEP Networks as a General Manager of Secure Cloud Access. Among other things, his responsibilities included projects associated with new software releases, including the overall product life cycle from market requirements, budget, architecture and design reviews, and customer support. Mr. Spencer originally started with NIKSUN in January 2000 as a Senior Software Engineer working on the early versions of NetVCR and NetDetector, and rose through the ranks to become the VP of Engineering from 2004 to 2008.

Mr. Spencer received a MS in Computer Science from Polytechnic University and a BS from City College of New York. He has also presented his work at various seminars and written numerous papers on a variety of topics. Among his many achievements include a patent for a software algorithm and apparatus he created for achieving high-speed packet data collection in support of network accounting and usage sensitive billing.





Jochen Patzer, VP, System Engineering
No stranger to technology, Jochen Patzer has over 20 years of professional experience working within information technology companies across the world. Due to his international cyber experience, Jochen is a proven expert in several different cultural information technology contexts. Thanks to this unique and unparalleled background, Jochen has a better connection with, and a better read of current global technology trends.

Jochen began his specialized education with his Diploma in Information Technology. Later, with his MBS in Business Art from the University of Stockholm, Jochen joined NIKSUN in 2006 as an International Manager. Since then, he has catapulted NIKSUN cyber solutions forward, with his high-level project and quality management as the Vice President of System Engineering. His qualified expertise includes that of security solutions, software, network and wireless technologies.

Charlie Booth, VP, Sales, The Americas
Charles "Charlie" Booth is the VP of Sales for the Americas. He is responsible for sales efforts in North, Central, Latin America & the Caribbean. Charlie's organizational skills, understanding of customer's long term requirements and the need for value and return on investment makes him a strong and effective leader heading NIKSUN's sales efforts in the Americas. He is passionate and driven to support clients with NIKSUN's innovative technologies to ensure optimal service delivery, risk reduction and cyber security.

His proven leadership skills are paired with a rare naval and business background. Along with 20 years of honorable service to the United States Navy, Charlie earned a Bachelor of Science Degree in Nuclear Physics from the United States Naval Academy and a Master of Science Degree in Information Technology Management from the Naval Postgraduate School. Always motivated, Charlie completed his noteworthy naval career serving as the Chief Technology Officer and Deputy Chief Information Officer for the U.S. Navy's Headquarters Staff. Given his previous high-level positions in the United States Navy, Charlie served as the VP of Sales, Marketing and Strategic Operations at Objective Interface Systems (OIS). Before OIS, Charlie was a key member at Cisco, Inc. in driving innovative technology growth into government and commercial customers and partners, globally, to positively impact their missions.