Why NIKSUN
"Unquestionably the Top Network Forensics Tool Available"
- Dr. Peter Stephenson, Technology Editor at SC Magazine
NIKSUN is the recognized world leader in empowering organizations to Know the Unknown. Since 1997, we have been committed to delivering the most innovative solutions for securing and optimizing the networks of over a thousand customers including Fortune 500 companies, government agencies, and service providers.
Our industry leading suite of scalable, forensics-based cyber security and network performance monitoring products provide customers with in-depth and actionable insight into security threats, performance issues, and compliance risks. NIKSUN's patented real-time analysis and recording technology is the industry's most comprehensive solution for securing and maintaining dynamic network infrastructure.
With our award-winning products and solutions, every piece of data traversing the network is simultaneously captured, inspected, mined, correlated and stored at rates through 100 Gbps - a capability exclusive to that of NIKSUN. Our latest release, NikOS Everest, provides a "Google-like" technology for the network allowing you to search quickly for any data and filter it according to your needs.
The single biggest challenge in solving the problems associated with cyber attacks and performance issues, is gaining prompt and actionable insight on the bewildering array of unknowns. With the ability to record, inspect, and analyze all network activity, NIKSUN enables customers to Know the Unknown - providing invaluable holistic insight to retrace incident paths and mitigate any damage done, in a fraction of the time.
Known-Known - Known attack scenarios, vulnerabilities, and attackers
Known-Unknown - Known though incomplete details but enough to proactively establish a security perimeter
Unknown-Unknown - Unforeseen security breaches and malicious network activity orchestrated by unknown entities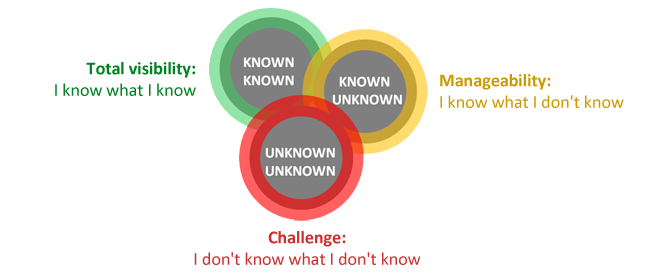 Learn more about NIKSUN.
Explore our latest release - NikOS Everest
Meet our management team.
View our awards and reviews.
Hear what others are saying.