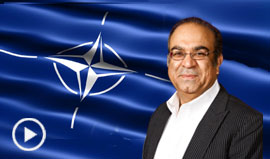 Cyber Security Defense Challenges, Trends & State-of-the-Art
Dr. Parag Pruthi delivers a keynote speech at the NATO Information Assurance Symposium (IAS).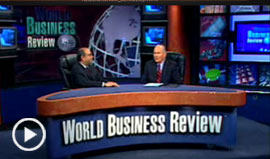 Interview with General Norman Schwarzkopf
General Schwarzkopf and Dr. Pruthi talk about cyber crime on CNBC.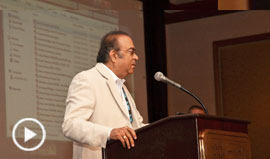 About NIKSUN
Learn more about NIKSUN from its Founder and CEO, Dr. Parag Pruthi.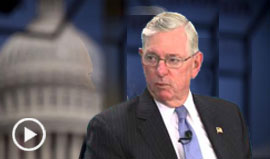 Comm. Basham on Dr. Pruthi's Service to the Nation
Discover how NIKSUN helped the United States Secret Service save billions of dollars around the world.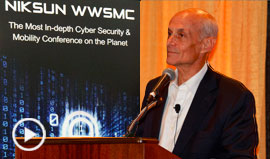 The Honorable Michael Chertoff speaks at NIKSUN WWSMC
The Honorable Michael Chertoff, former Secretary of Homeland Security, discusses emerging cyber threats and different strategies to secure our cyber domains.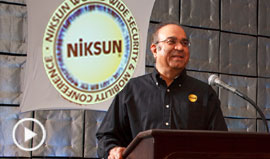 World Wide Security and Mobility Conference (WWSMC)
Dr. Parag Pruthi gives an overview of the WWSMC, a platform for encouraging dialog between industry, government and academia, to foster solutions for today's cyber security and mobility challenges.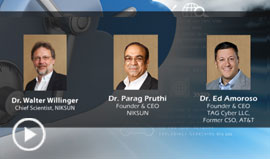 How Do We Eliminate Network Blind-spots?
Gaining insight with Dr. Parag Pruthi, Founder and CEO of NIKSUN and Dr. Ed Amoroso, CEO of TAG Cyber and former CSO of AT&T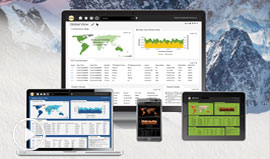 NikOS Everest
Paul Spencer, VP of Engineering at NIKSUN, unveiled NIKSUN NikOS Everest, at Oracle OpenWorld 16.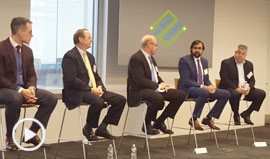 Protecting Critical Assets and Data
Nikheel Pruthi invited to share his insight on the current state of the cyber security industry at the NJTC Tech Briefing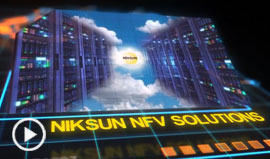 NIKSUN Virtual Solution
Using the NIKSUN Virtual Appliance, securely and seamlessly virtualize your data center to the cloud, and yet, maintain a non-disruptive, secure and scalable infrastructure.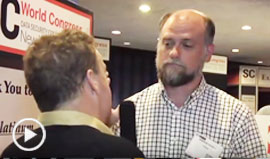 12 Hours to Network Meltdown
Take a front row seat to a live attack demo, conducted by NIKSUN, at the SC Congress Symposium.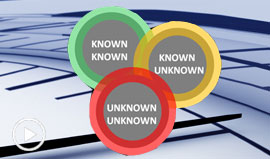 NIKSUN Helps You Know the Unknown
NIKSUN empowers customers with the ability to Know the Unknown - providing invaluable holistic insight to retrace incident paths and mitigate any damage done, in minimal time.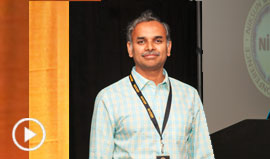 The Theory of Digital Forensics and How It Impacts Our Lives
Dr S Raj Rajagopalan, Scientist at HP Labs, talks about the challenges facing digital forensics and how to address these issues by converging theory with practice, at NIKSUN WWSMC.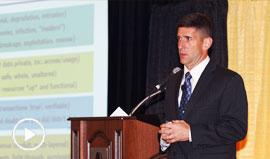 Securing the AF Internet
Col. Russell D. Fellers talks about securing the AFNet at the NIKSUN WWSMC.
Robust and Trustworthy Mobility-centric Architecture for the Future Internet.
Prof. Dipankar Raychaudhuri, Rutgers University, provides an overview of a mobility-centric architecture for the Internet of the future, at NIKSUN WWSMC.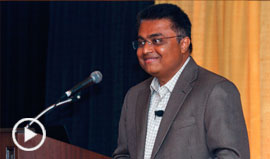 Past, Present, and Future: Understanding Where the Puck is Going
Mr. Vimal Solanki, Sr. VP of Corporate Strategy & Intel Office, McAfee, talks about the challenges facing cyber security today and how to deal with them, thus securing our digital future, at NIKSUN WWSMC.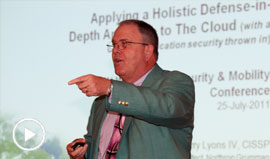 How to Secure the Cloud regardless of Cloud Type
Mr. Barry Lyons, CISSP, Senior Cyber Architect at Northrop Grumman, talks about cloud security, at NIKSUN WWSMC.
Prof. Vincent Poor interview at NIKSUN WWSMC
Prof. H. Vincent Poor, Princeton University, discusses how NIKSUN WWSMC workshop provides a platform for researchers, from industry and academia, to network and exchange their ideas for solutions to some of the today's leading cyber security and mobility problems.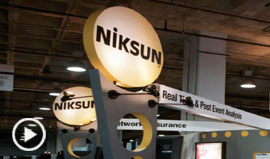 NIKSUN at CiscoLive
Learn what customers are saying about NIKSUN's award winning products.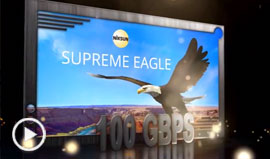 NIKSUN Supreme Eagle
Learn more about our latest product offering, a single modular hardware platform with scalable recording and analysis speeds ranging from 20 Gbps to over 100 Gbps.